IBNSINA TECHNOLOGY
IBNSINA is a smart platform based on artificial intelligence, neural networks and image processing in order to supply assistance and intelligence imaging for the detection and diagnoses of different health issues. The learning capacity of the system increases with each image processed, thus improving the reliability of the diagnosis.
The objectives pursued by the IBNSINA technology are to:
Develop reports to be used in preparing initial diagnoses, which must be validated by health experts.
Reduce turnaround time.
Reduce false negative rates.
Measure health issues more easily and accurately.
Help to overcome current limitations that health experts may encounter when diagnosing.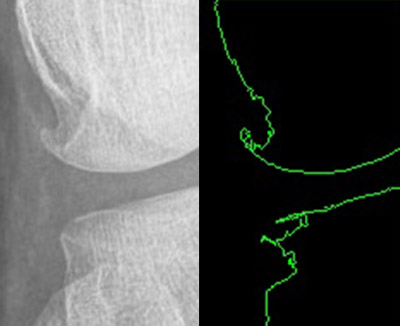 CADDIO – Intelligent ECGs
The goal of the CADDIO system is to help GPs rapidly diagnose whether an Electrocardiogram can be considered normal or abnormal. Through signal processing and artificial intelligence, abnormalities can be identified within particular areas of the ECG signal and thus determine the individual's general cardiovascular health. This in turn allows the GP to quickly identify if a patient may need further attention from a cardiovascular professional, dramatically reducing the overall time spent with each individual patient.
SMARTOBA– Osteoarthritis Evolution Detection
This project consists of the application of bioinformatic techniques, particularly in the field of artificial intelligence, in order to develop methods aimed at improving the diagnosis and monitoring of progression of patients with arthrosis in the knees and hands.
For this, radiographic (Rx) and magnetic resonance (RM) of the OAI (Osteoarthritis Initiative) and PROCOAC (Prospective Cohort of A Coruña) cohorts will be used. The information obtained by deep analysis of the images will be integrated with the available corresponding epidemiological, clinical and molecular data, in order to generate predictive models to categorise the subject's state. In particular, these tools will improve the detection of early stages of the disease by identifying biomarker structures (early diagnosis). It will also allow for a more precise monitoring of patients, by identifying individuals who are more likely to experience a rapid progression of the disease.
Therefore, the system results in a significant improvement of these patients' quality of care, as well as contributing to the technological modernisation of health systems, by taking advantage of the analytical power of emerging information technologies and the underused potential of huge quantities of stored medical data.